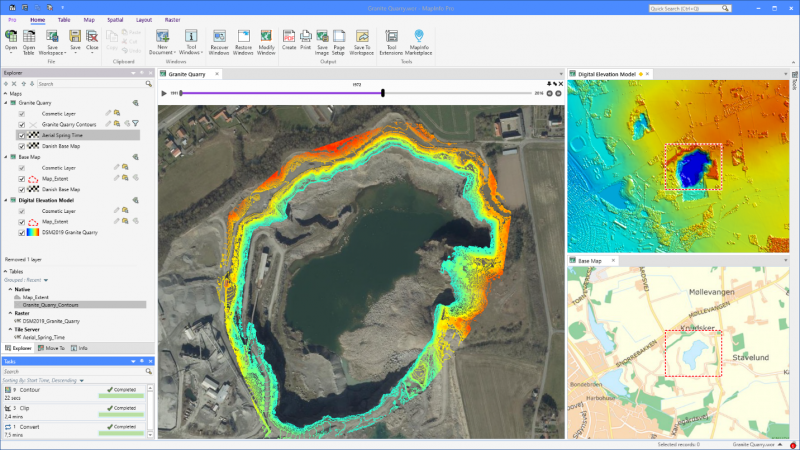 Time series analysis of granite quarry extraction
MapInfo Pro GIS software employs geospatial analytics and location intelligence to help you create insightful models of location-centric scenarios. Use these models to simulate different outcomes — then act with confidence.
Better understand a location by gathering information about its key features and how they interact. Visualize data through map symbols, themes, and labels. You can even overlay multiple datasets on a single map to distinguish patterns that would not otherwise be visible.
Integrate your corporate data with maps and demographics. Combine this information with our powerful spatial querying and modeling tools. Run different scenarios for an accurate, up-to-date representation of a location's possibilities.
Build models that are easily understood by non-technologists. Enable corporate decision makers to fully understand the attributes and drawbacks of each site, in each scenario. Help them take the type of action that propels business.
Extract information from raster data
Creating optimum insights from large spatial files can be a significant challenge. Use our patented Multi-Resolution Raster (MRR) data format for powerful spatial processing and map rendering. Identify, quantify, and visualize spatial patterns in raster datasets of practically unlimited size. Or use our Multi-Resolution Virtual Raster (MVR) to virtually merge, reproject, and resample raster grid data on-the-fly, without writing out new grid files to disk.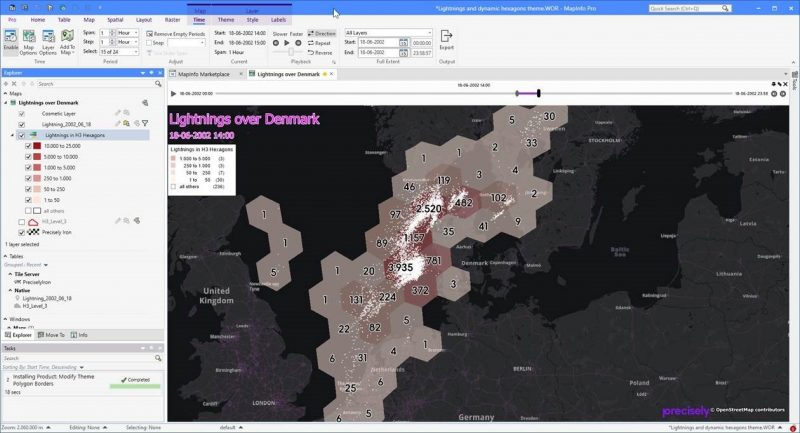 Weather analysis in MapInfo Pro using time series and hexagon theme
Customize MapInfo Pro to meet your needs
MapInfo Pro users can access custom features and functionality via the MapInfo Marketplace, a collaborative space where users can download and share plugins for the software.
These plugins include:
MapInfo Pro Drone: Commission project-specific data from a global network of more than 10,000 certified drone operators.
Python Console: Increase productivity by building, running, and reusing customized applications. MapInfo Pro offers robust support for MapBasic and Python scripting languages.
Geocode: Take advantage of best-in-class geocoding from directly within the MapInfo Pro interface.
MapInfo Pro Viewer: Drive collaboration within your enterprise with the free MapInfo Pro Viewer. It allows line of business users to open any MapInfo workspace. Open tables in read-only mode and perform basic map operations such as pan, zoom, or reordering layers.
Geoffrey Small:
(949) 292-4848
geoffrey@terranovabi.com
David Ries:
(518) 506-2808
david@terranovabi.com
Copyright 2022. All Rights Reserved.